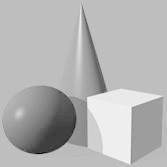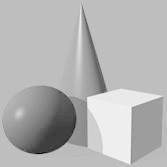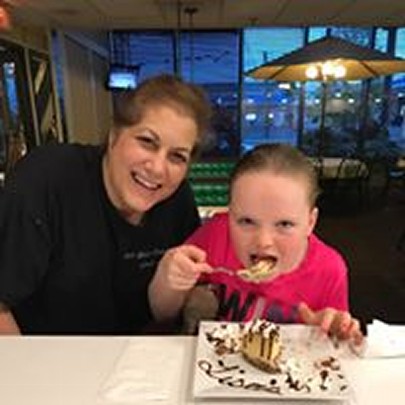 Another young fan.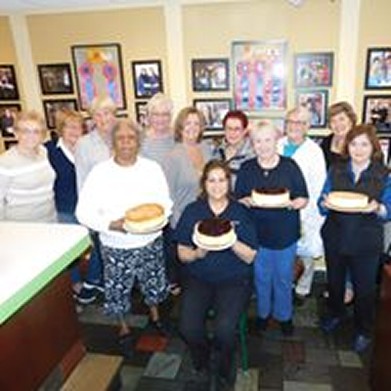 Nyack Retired Nurses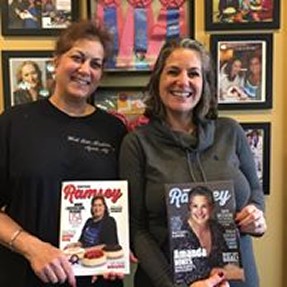 On the cover of Ramsey Magazine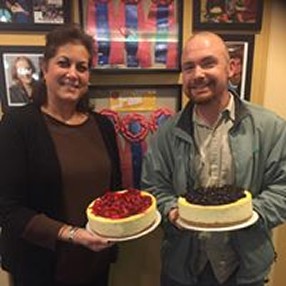 He loves the cheesecakes so much that before eating a full meal he ate 3 slices. (and you know how big our slices are). Amazed by his appetite. He came back and had another 2 slices.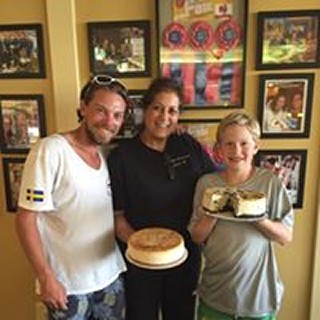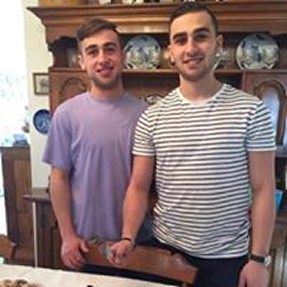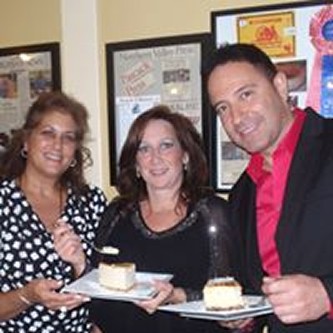 Singer Tiffany and Soave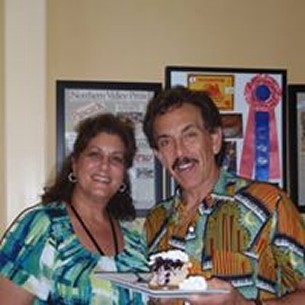 . Arnold Diaz from "Shame on You" News TV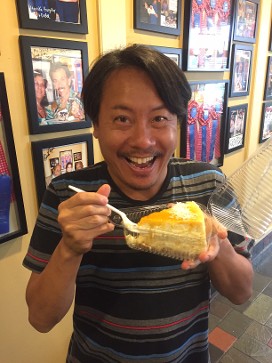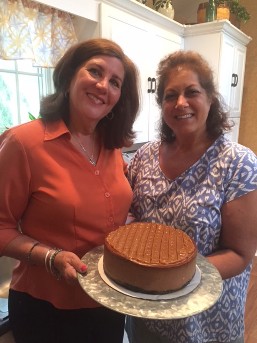 Winner of a Cheesecake Contest in the Ramsey Magazine. Her choice of flavor-a Salted Chocolate Caramel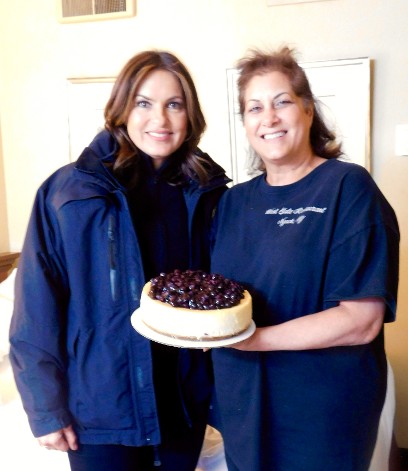 Mariska Hagarty from Law and Order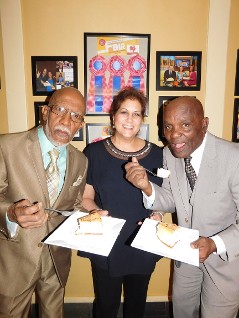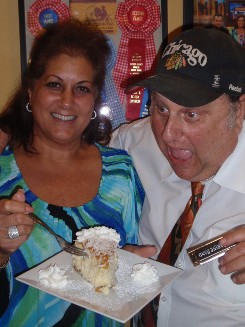 Comedian from Comedy Club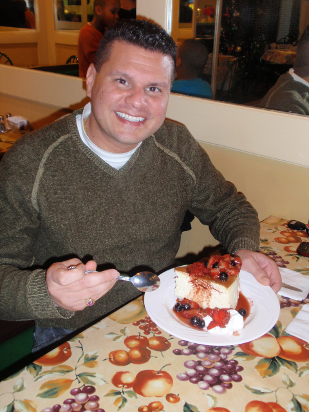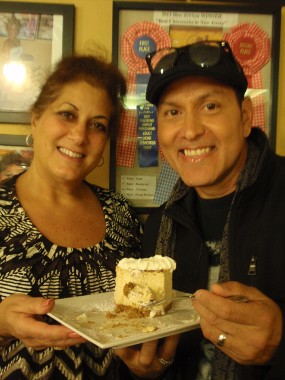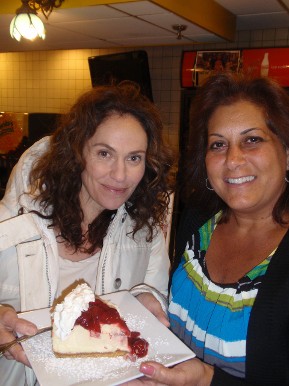 Actress Amy Brenneman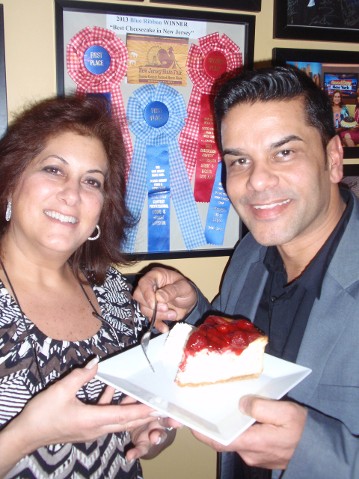 Luisito Rosario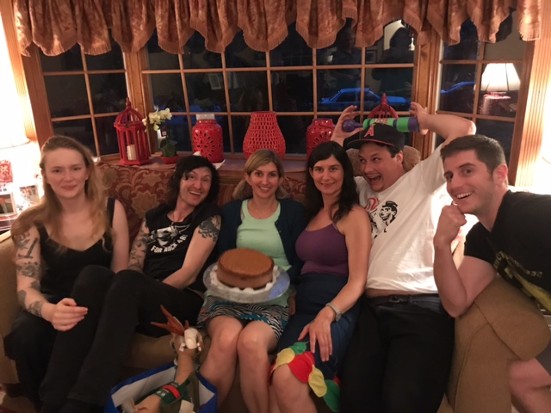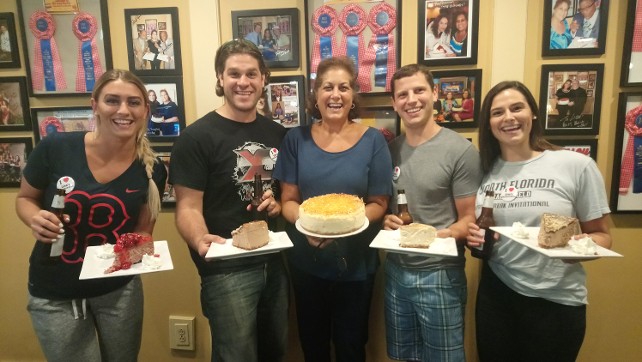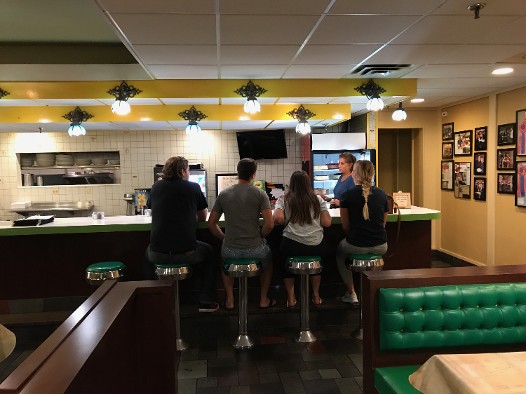 Drove down from the New England State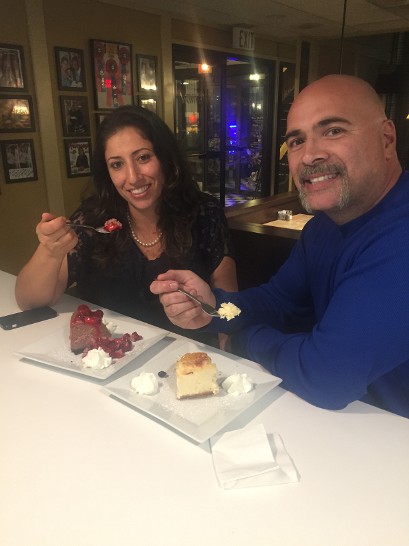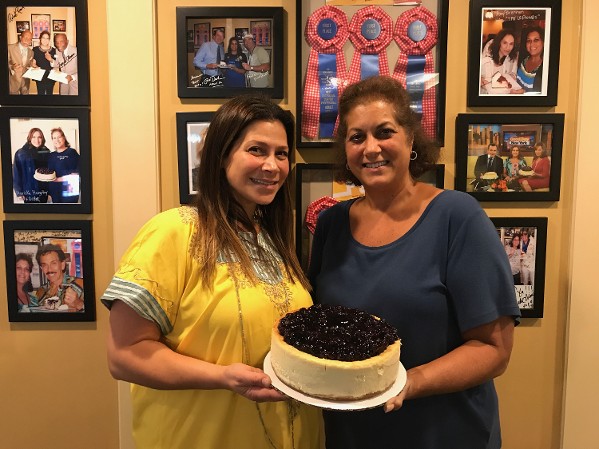 The magnificent Gina Marie, Psychic Medium. Blueberry is her favorite.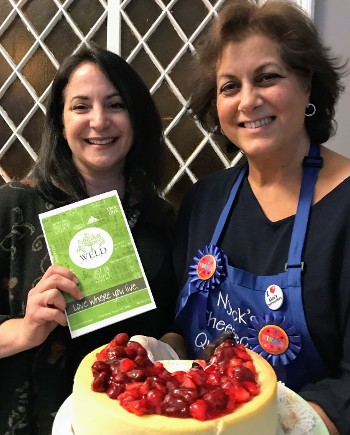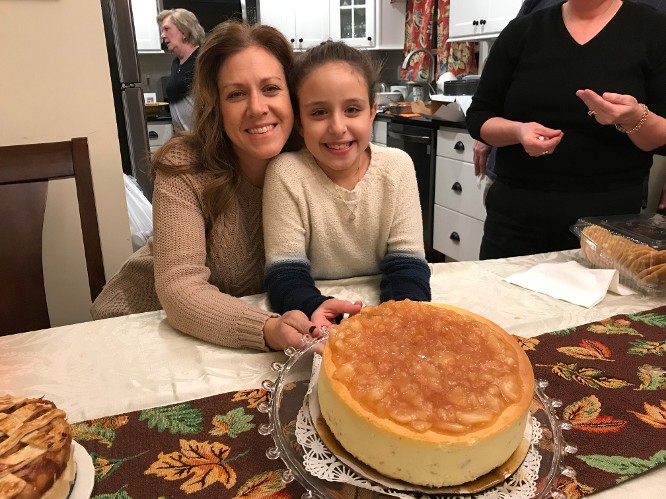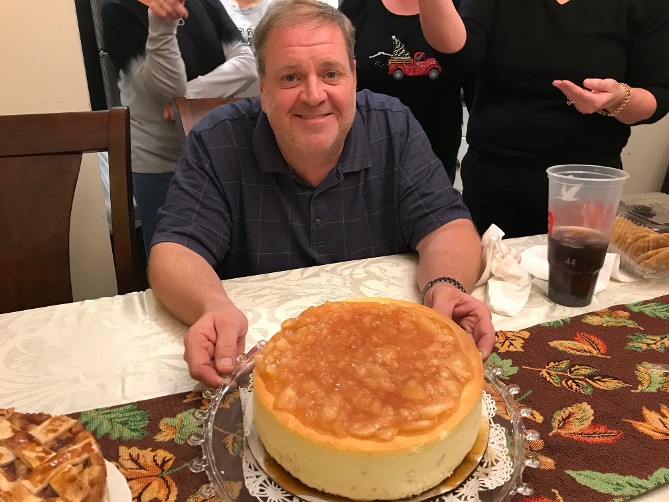 A Special request for an Apple Cheesecake enjoyed by their family on Thanksgiving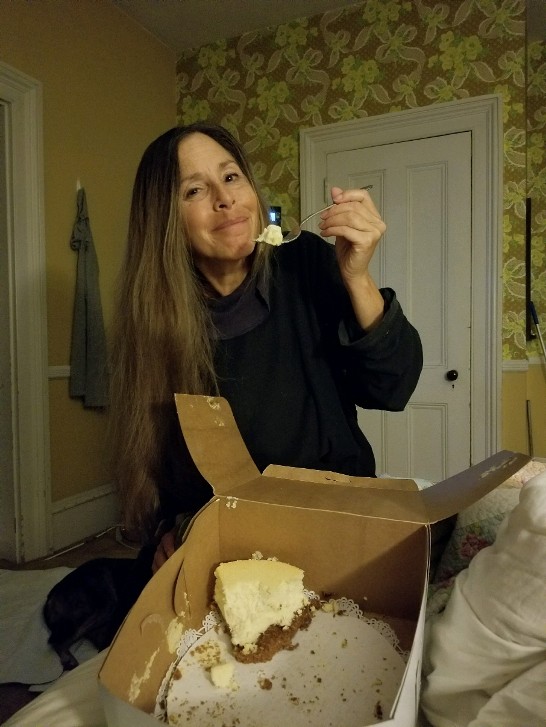 Flair Banke enjoying her cheeseake above wrote me a beautiful letter!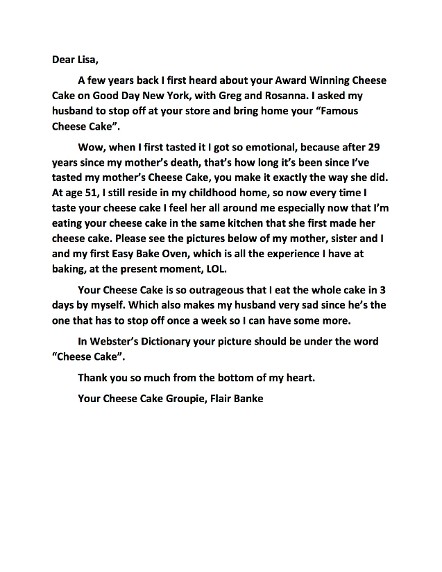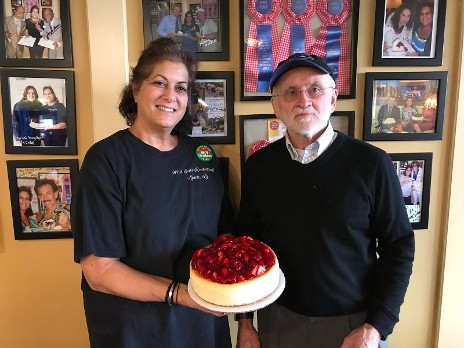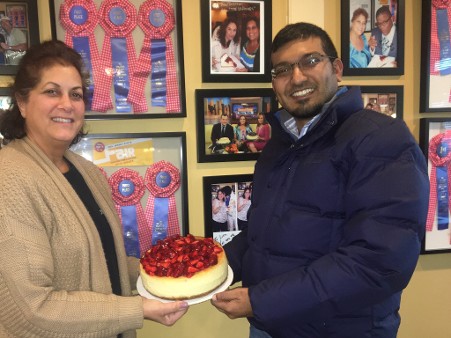 Kishi John took Cheesecake to his mother-in law in Guyana, South America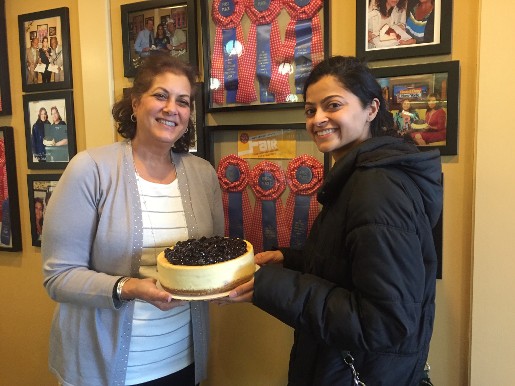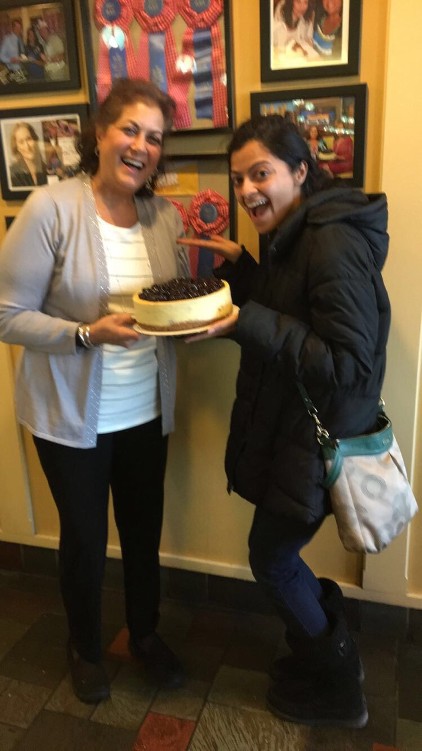 Another Cheesecake Lover who has brought her entired family from Chicago to have cheesecake.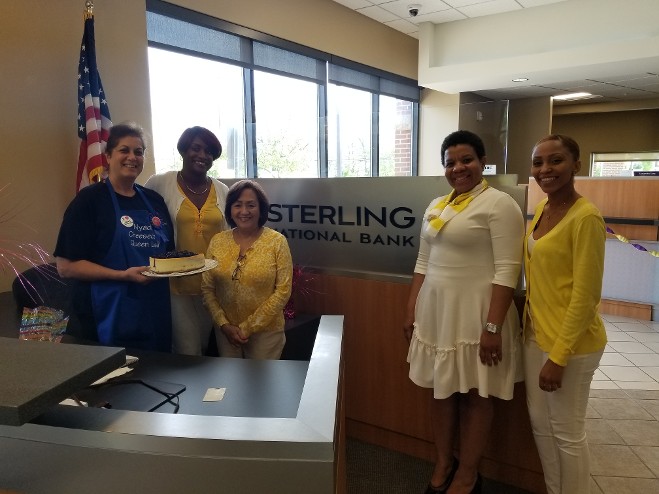 The beautiful ladies at Sterling Bank in Nyack. I donated and served blueberry cheesecake at their open house.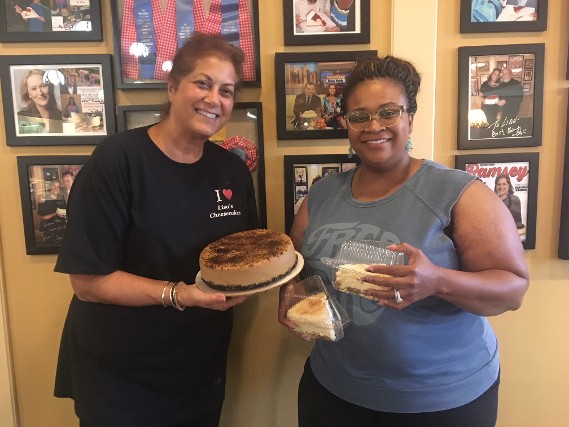 Shamara all the way from Monticello, NY for her favorite Coconut Cheesecake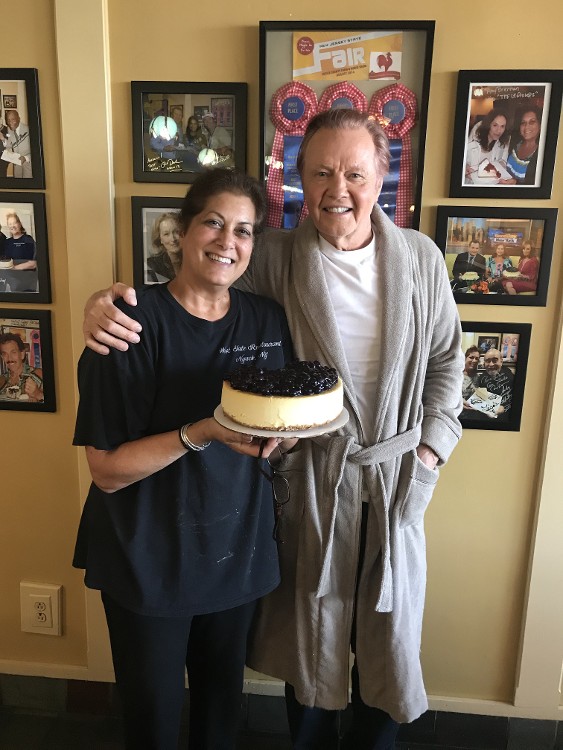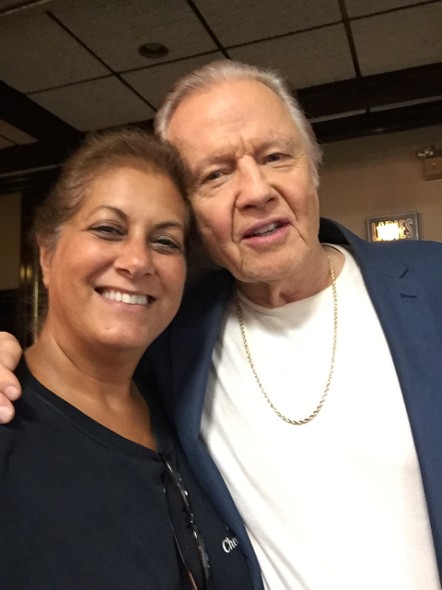 Jon Voight visited and took away three whole ones. A week later he came back for more!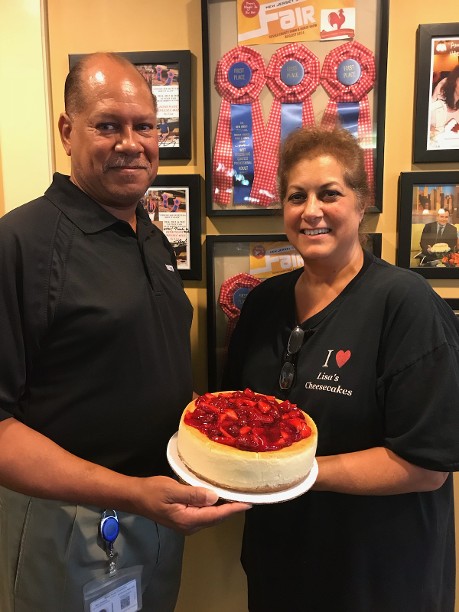 Mark from Virginia asked for a special order for a one of a kind flavor
!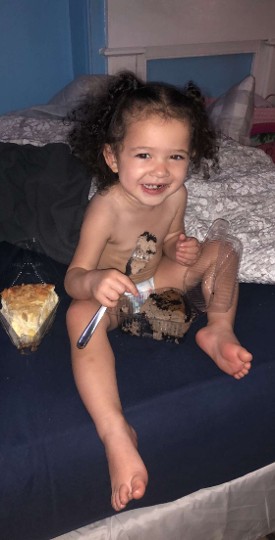 How cute is Jada loving the Chocolate Cookies N' Creme.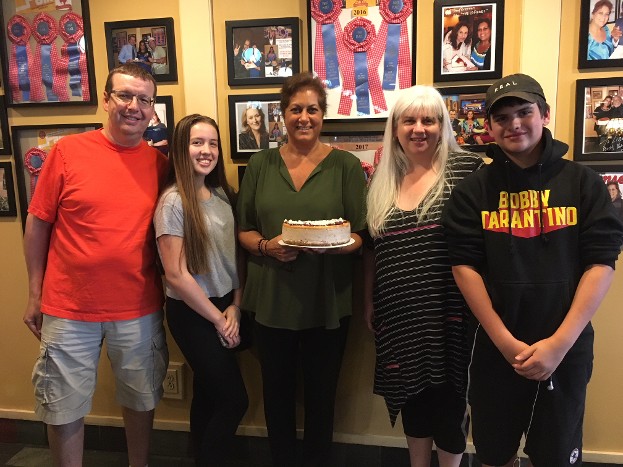 The James Family from Toronto Canada. David, Meagan, Jennifer and Owen came just for cheesecake.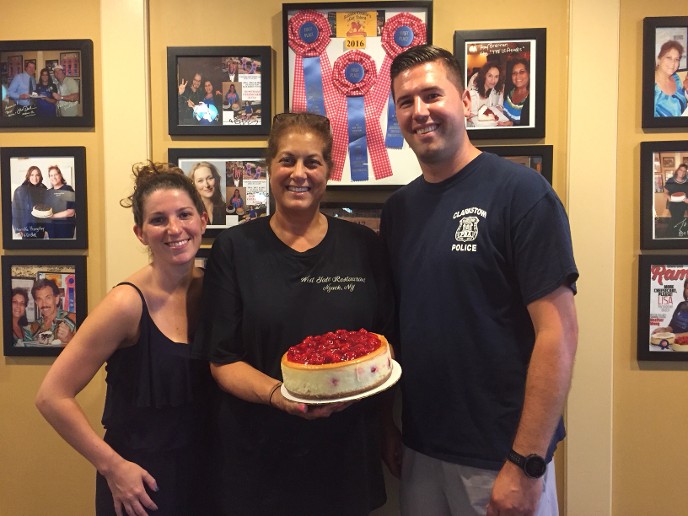 Clarkstown Police Officers-Corry Doyle and Matt Dowen picking up a cheesecake for Officer Tom Doyle's birthday celebration. Happy Birthday Tom!
Famous Salsa singer, Tito Rojas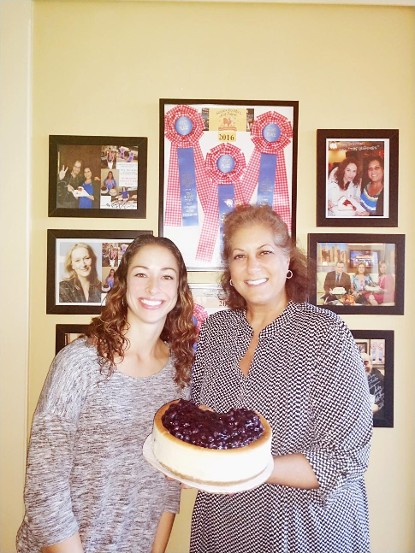 I had the pleasure of meeting two beautiful sisters who got a selection of flavors for Laura's birthday. Happy Birthday Laura!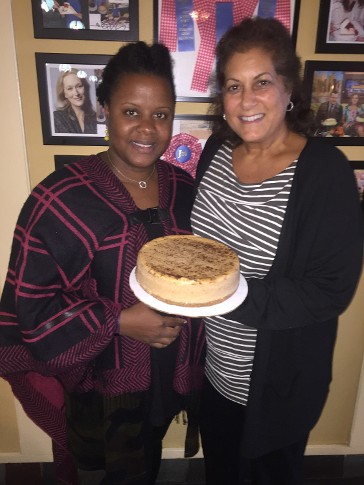 One of my long time fan, Lateefah. Loving her Coquito Cheesecake.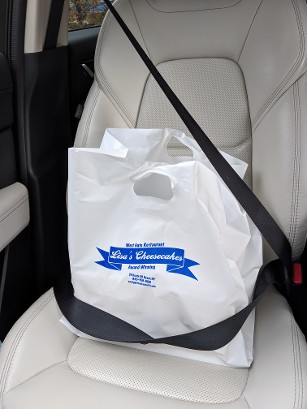 Christinia took her Thanksgiving Cheesecake very seriously with Safety First!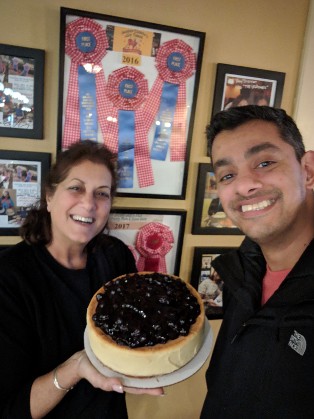 He's always thrilled to pick up cheesecake and
with his new addition to his family. Congratulations!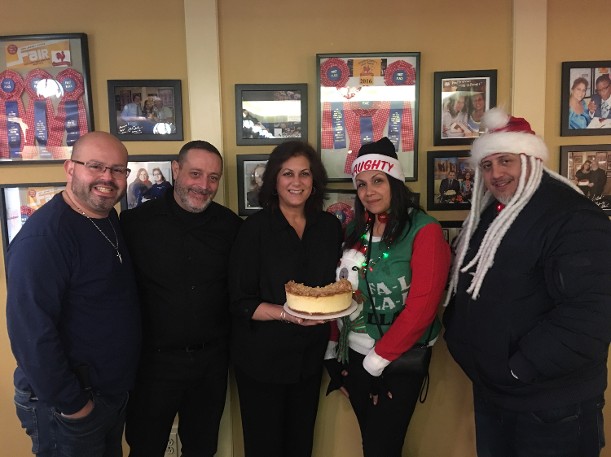 Eddie Ramirez and friends celebrating the holidays with cheesecake and with Lisa and waitor Rick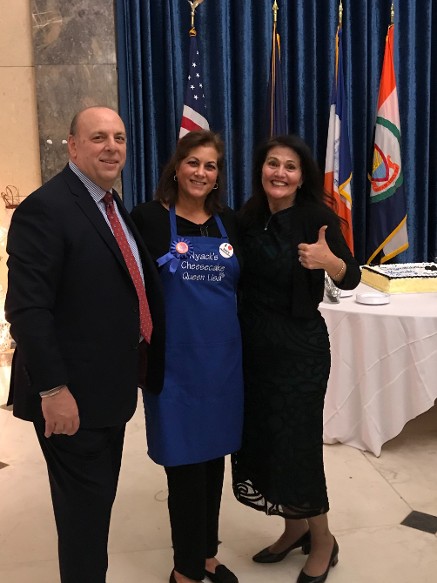 It was an honor to serve cheesecake at the induction of the newly elected New York Justice of the Supreme Court, Ben Barbato and his beautiful wife Brenda.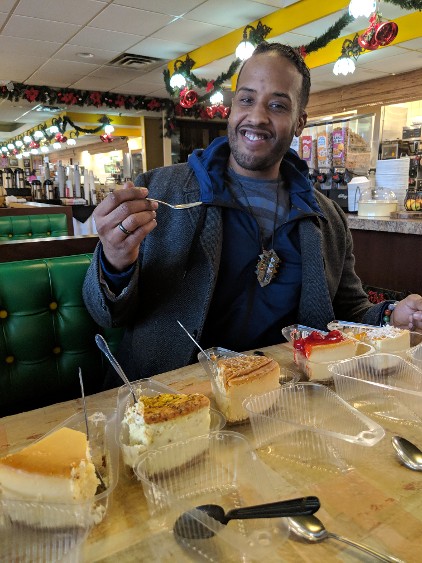 Tasting Lisa's Cheesecakes for the first time. All lined up and ready to taste. Plain, Pistachio, Slalted Caramel, Cherry and Mango Coconut. We almost had to pick him up off the floor. (Lisa's cheesecake lovers know exactly what we mean)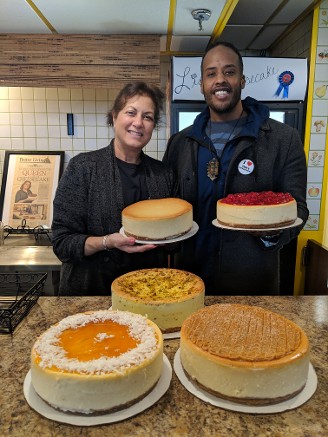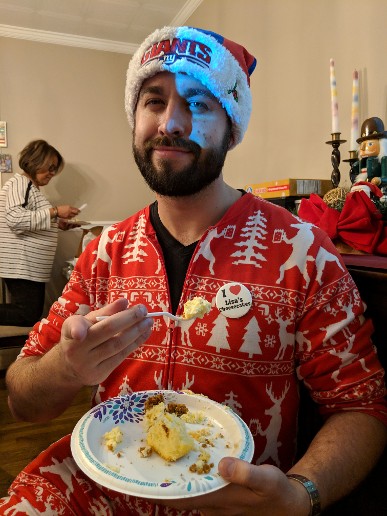 What can be better? Wearing a Giant's hat on Christmas? Wearing cozy pajamas? Wearing an
"I Love Lisa's Cheesecake" pin? Wearing a smile on your face while eating Lisa's Cheesecake?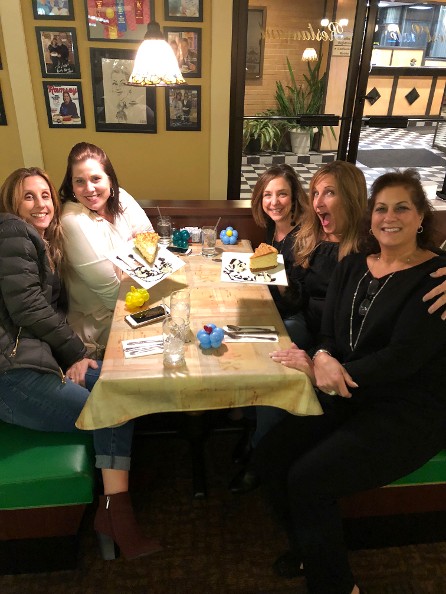 Tracey and the girls!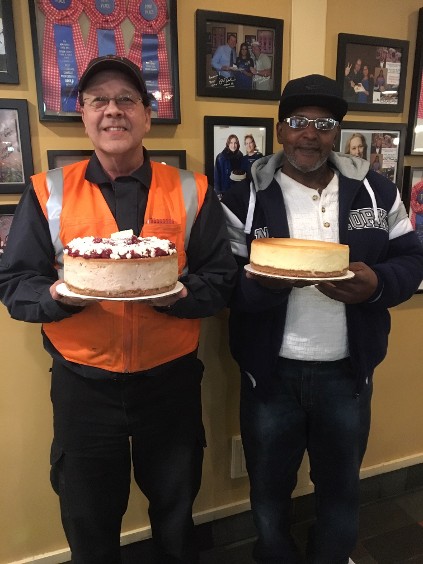 Ray and Vincent just drove 2 1/2 hours from Conneticut just for cheesecake!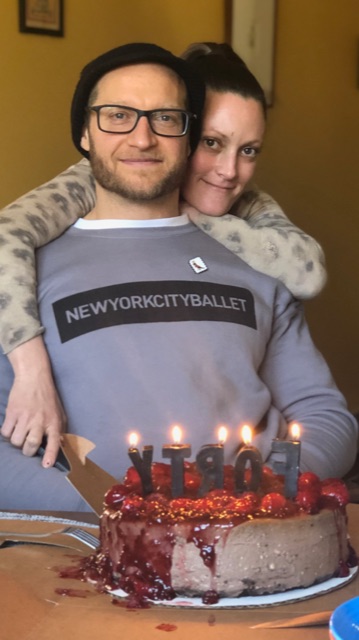 Dear Lisa,
Thank you so much for making this beautiful cheesecake for Rory! We fell in love over your chocolate raspberry. He had never eaten cheesecake before yours and now swears that he'll only eat cheesecake with me. However, the real situation is that he also won't eat anyone else's cheesecake but yours! He ate half the cake the first night! You made his 40th magical!
Love
Bonnie and Roryn (keep the cheesecake level when you carry it...:))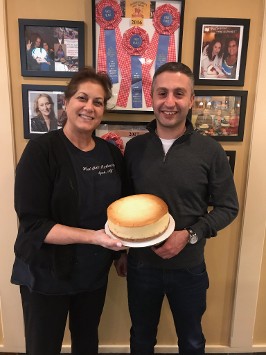 Albert came all the way from Armenia and has had every flavor available.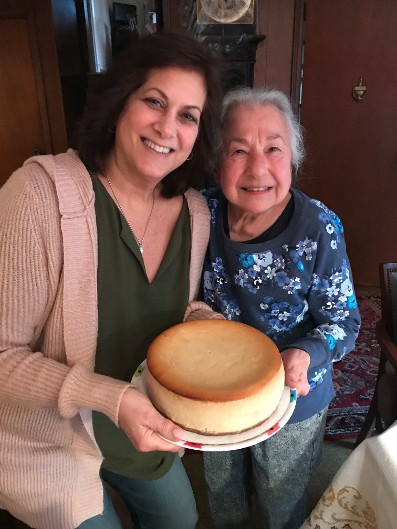 When your Aunt requests an Irish Cream Cheesecake, you make it!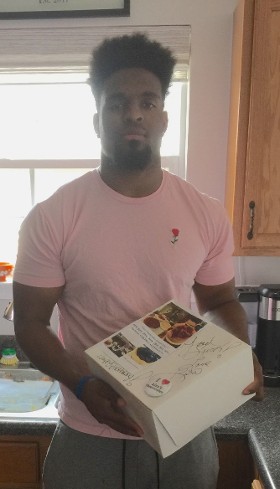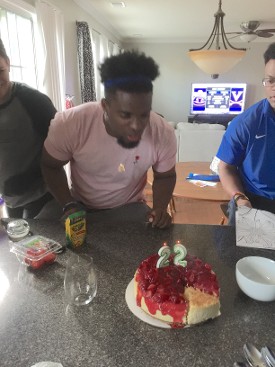 Nyack resident, Joe Giles-Harris is attending Duke University in North Carolina. His birthday request was cheesecake. Mom Lynn drove down and hand delivered it. Happy Birthday Joe and let's all wish Joe luck in the upcoming NFL draft!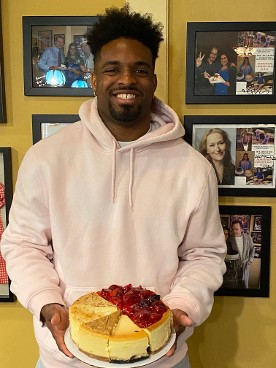 Update: Joe stopped in for his favorite cheesecake. CONGRATULATIONS Joe, now playing number 43 for the Jacksonville Jaquars Football team.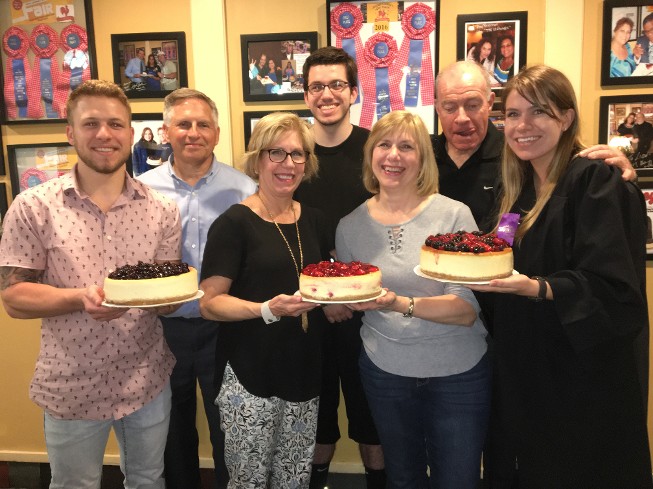 Congratulations Jenny on your graduation from Nyack College. The Nye and Treide Family came all the way from Massachusetts to celebrate with Cheesecake!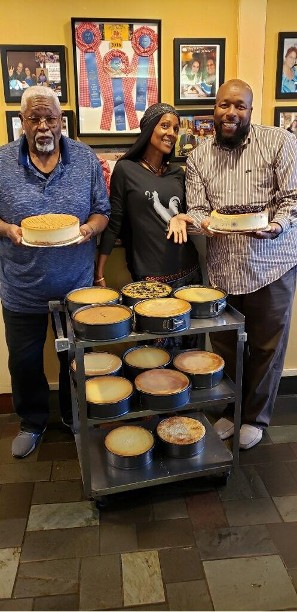 Zee Arenas, Tampa FL, Kareem Salaam, Maryland, and a Happy 83rd Birthday to Shermnan Keith from Yonkers, NY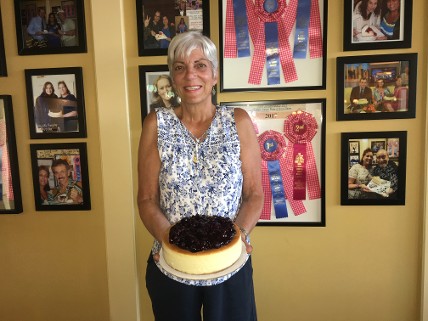 Pia came from Woodcliff Lake NJ for some cheesecake!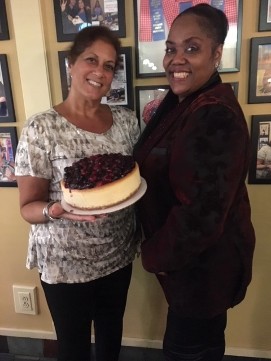 Freestyle Artists Nayobe and Coro were in the house!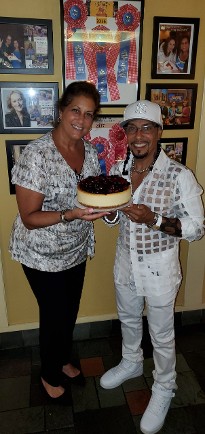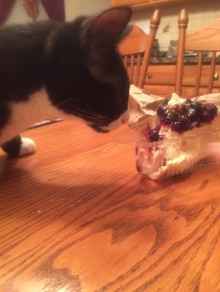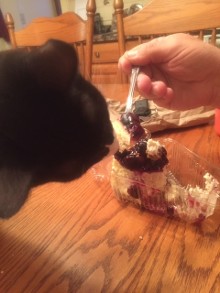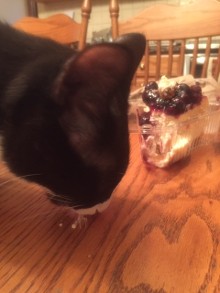 Even a very special amazing cat, Jimmy, loves Cheesecakes!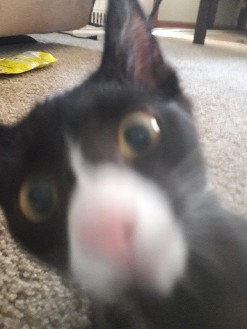 I love you Jimmy!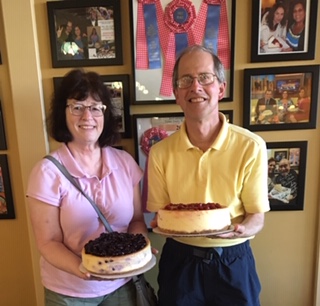 Carol and Allen from Willow Grove, PA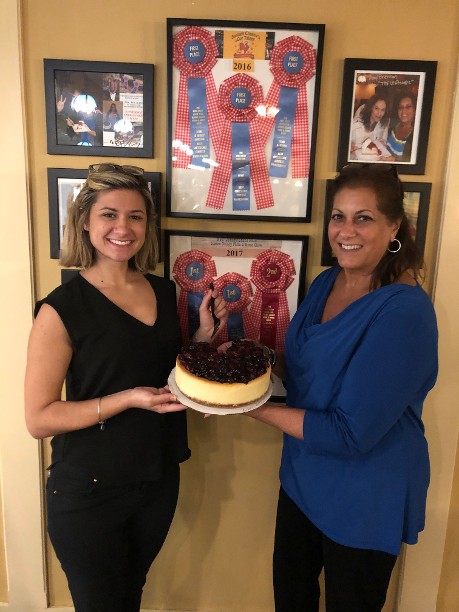 The beautiful, Alexandra, all the way from Florida!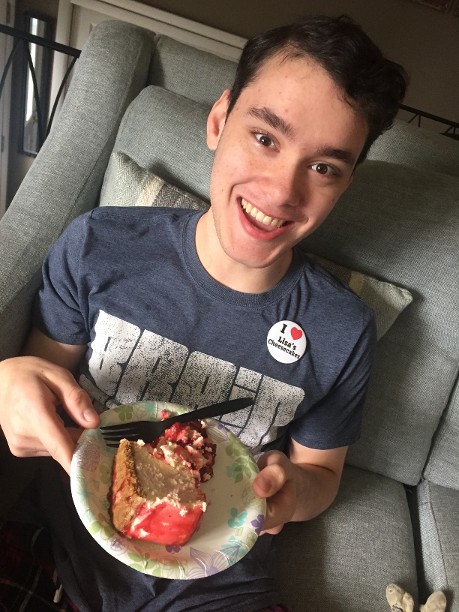 A perfect example that birthday wishes do come true. For Steven's 19th birthday he asked for nothing but Lisa's Strawberry Cheesecake. I have to admit...that looks delicious! Happy Birthday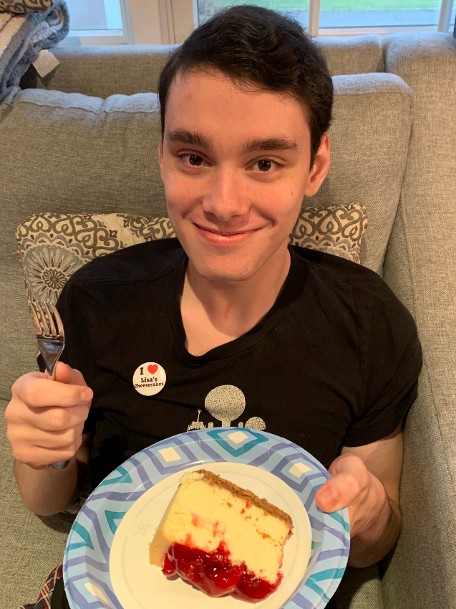 Another year...another strawberry cheesecake birthday celebration. Happy 20th Birthday Steven!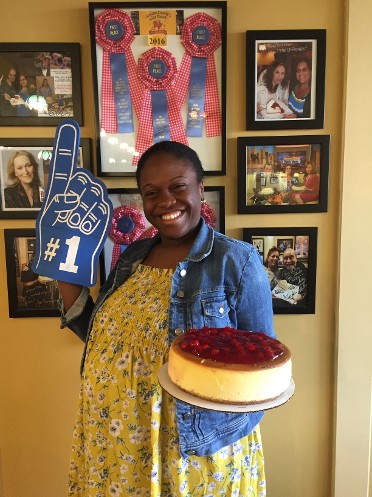 Amy was craving cheesecake for two! Congratulations and best luck with the baby!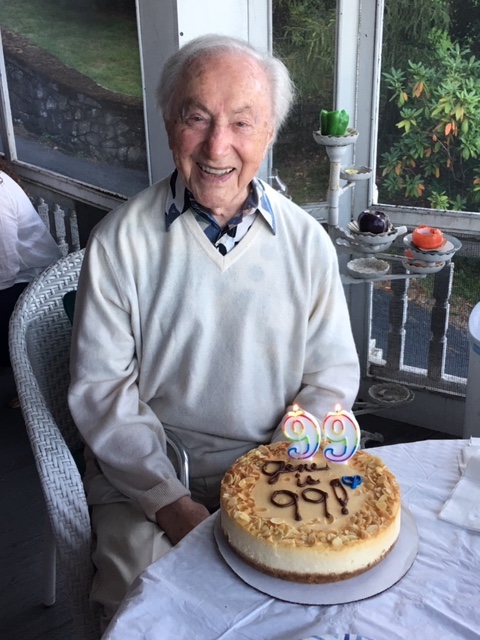 Happy 99th Birthday Gene....who asked for an Amaretto Cheesecake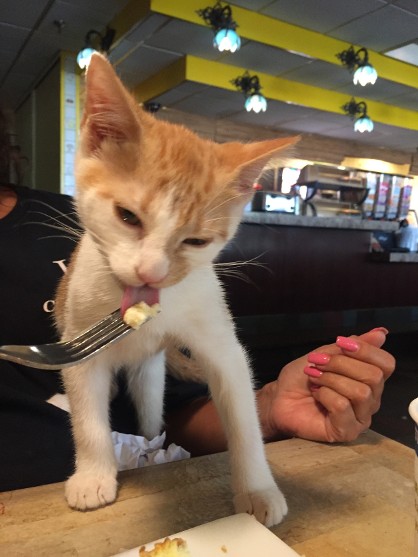 Phoenix the kitten loves cheesecake!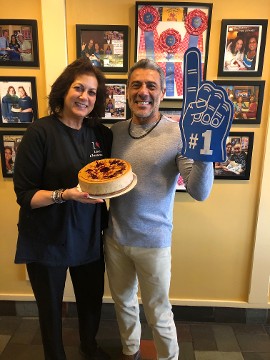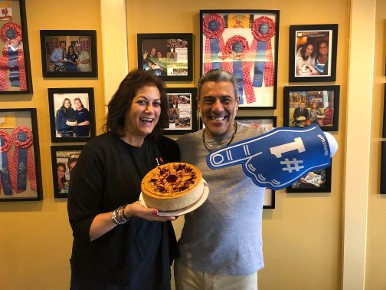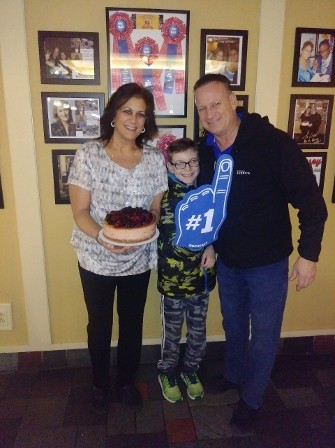 There is nothing like a father/son out for cheesecake!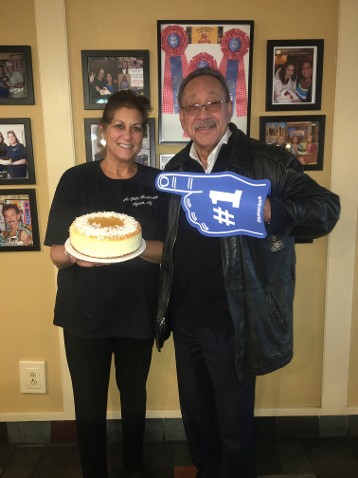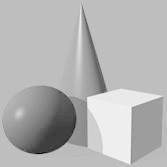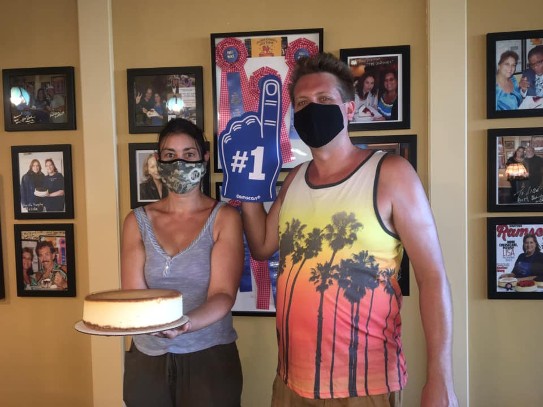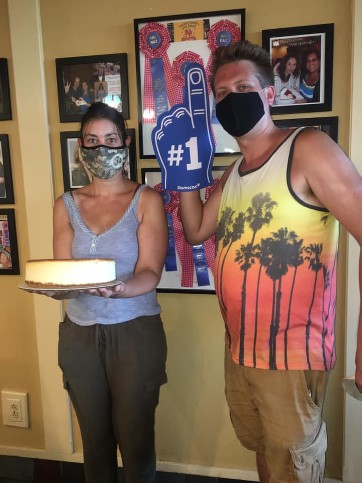 From Astoria, Queens it's Josh and K. Krombie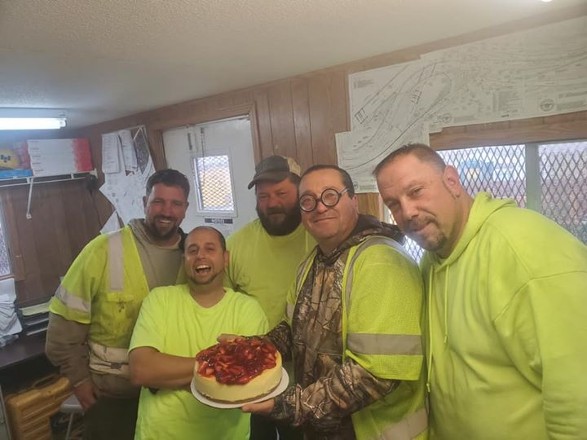 "Yonkers Contracting" From L. to R. Kevin, John, Dale, Joe and Bryan who built the "Nyack Shared Use Path".......Great Cheesecake Fans!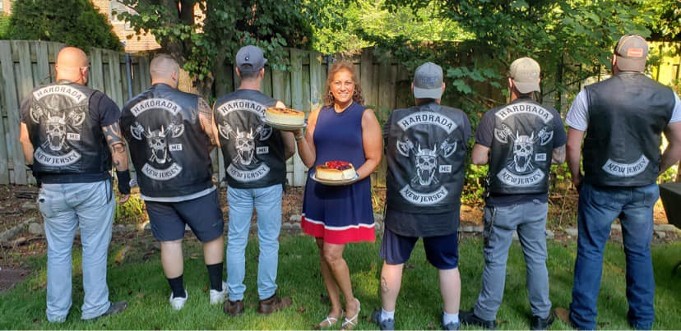 Hardrada MC lovessssss my Cheesecake! Peanut Butter and Jelly is a big favorite! Safe Riding!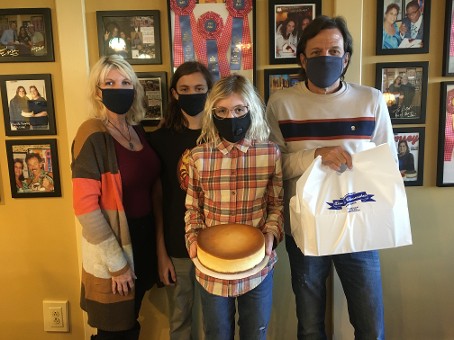 All the way from Leonardtown, Maryland is Larry, Staci, Ava and Ian. You can't enjoy your trip without eating Lisa's cheesecakes!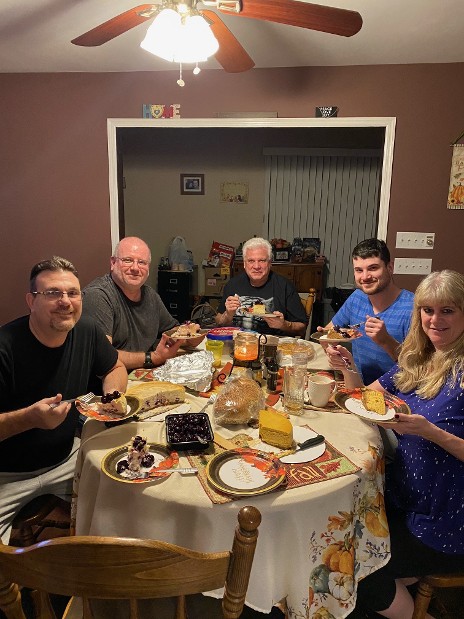 Happy Thanksgiving from the Zahn Family. Enjoying two blue ribbon winners Blueberry and Pumpkin!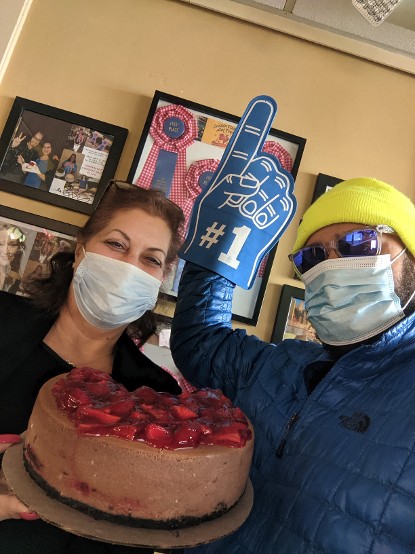 Nothing stopped Robert from Nyack, even the snow from picking up some cheesecakes. A great day to be cozy at home enjoying your cheesecakes.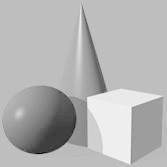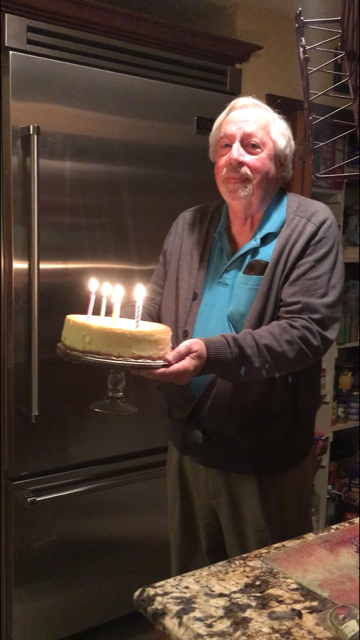 Charlie carring out Phyllis' Birthday Cheesecake on Christmas.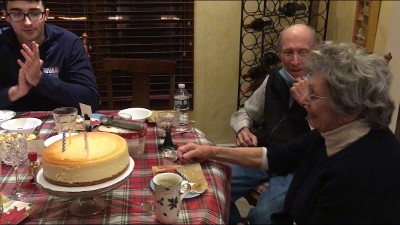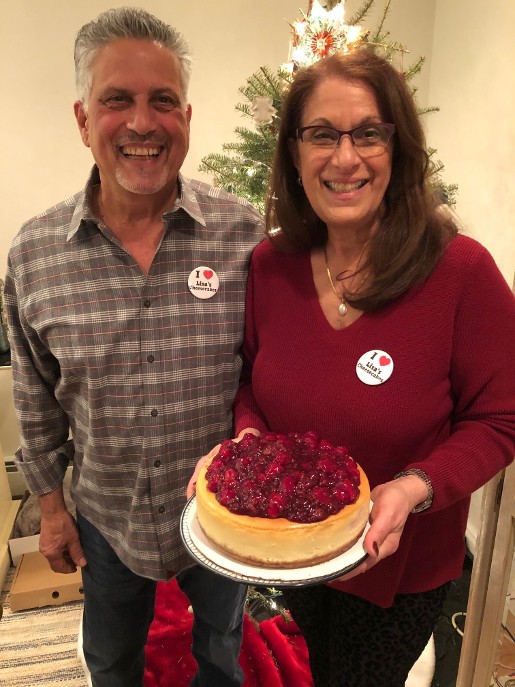 Stephen and Cindy celebrated Christmas with a Raspberry cheesecake...Thank you for your Tourchi gift it was delicious!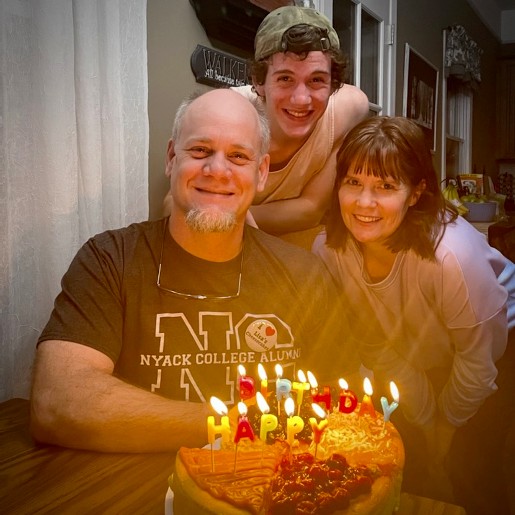 The Walker family celebrated Doug's 52nd Birthday with his one wish.......
Lisa's Blueberry Cheesecake! Happy Birthday Doug wishes do come true!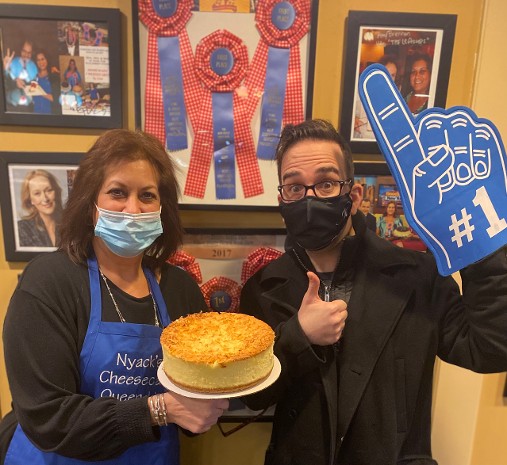 Gregory stopped back in for a another Burger and Cheesecakes with his family from Nyack!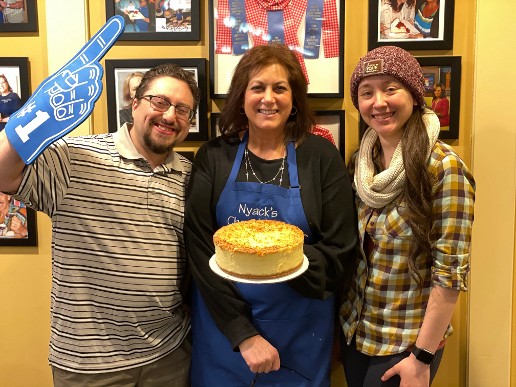 Eric and Alex from Nanuet stopped back again this week for their Burgers and Cheesecakes! Congratulations to Alex who is a nurse at Montefiore Hospital in Nyack!
AN EMAIL I RECEIVED FROM A FAN:
Date: June 1, 2021 at 6:19:08 PM EDT
To: Lisa
Subject: To Lisa from Jane, birthday lady
Hello Lisa,
This is Jane, the birthday lady that stopped in today. You kindly gavbe me a piece of your blueberry cheesecake. I am almost beyond words in describing this delicacy! It is so light, airy and creamy. It languishes on your tongue. The blueberries are firm and delightful with just the right sweetness. I detect a lovely flavor in the crust I cannot quite pin down. This cheesecake is perfection in sight, on a fork and in one's mouth! You gave me my only birthday present and is the best one I received in years! Thank you for your generosity and kindness. You are a lovely human being. I look forward to seeing you on Friday and speaking more and for cheesecake!
Jane M.
Piermont, NY
Sent from my iPhone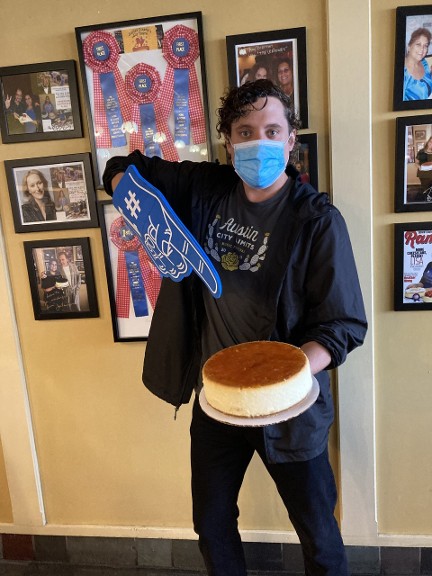 Peter Goodlin from Los Gatos California loved the cheesecake. Taking one to his best friend's rehearsal dinner before his wedding. Peter is also performing Stand Up Comedy at Caroline's on Broadway in New York City. Wishing you a belly full of laughs and cheesecake!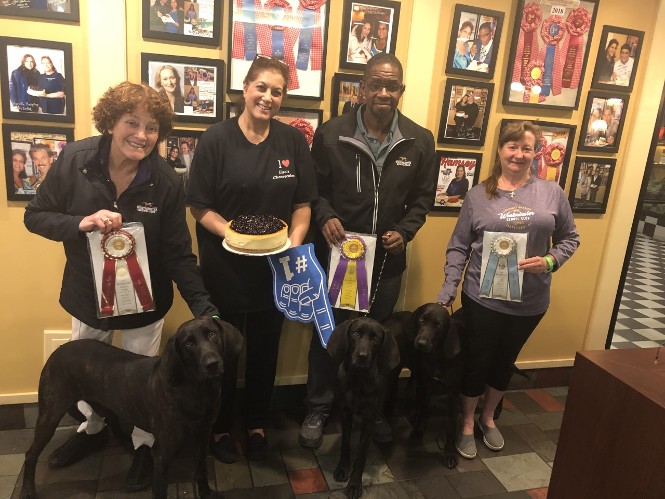 A Huge CONGRATULATIONS!!
Winners in the Westminster Dog Show 2021 in the 'Plott Hound Breed"
From Left to Right: Ike "Best of Opposite Sex", Easy "Best of the Breed" (as you can tell i'm pointing #1 to her)
and Slash "Best of Select of the Breed"
Along with from Left to Right: Joi Hosker, Breeder/owner, Victor Kemp Handler, Kelly Pensenstadler, Assistant
These were gorgeous dogs and their temperment was amazing. I got loving kisses and a lot of stares at the cheesecake as you can see below. I couldn't resist posting another picture as Ike was drewling for some.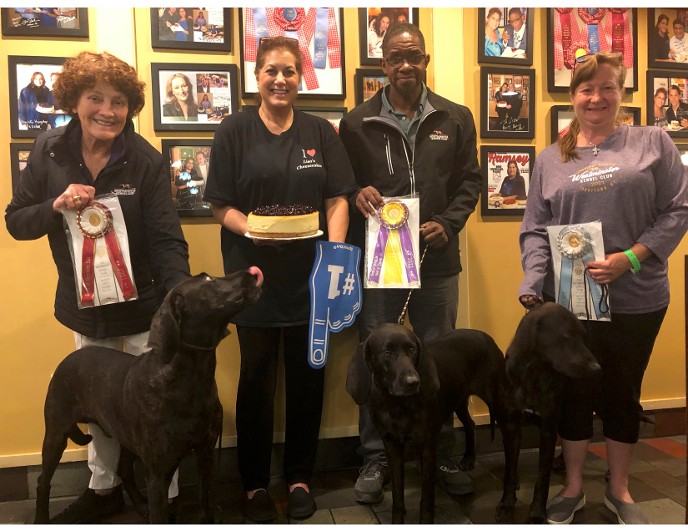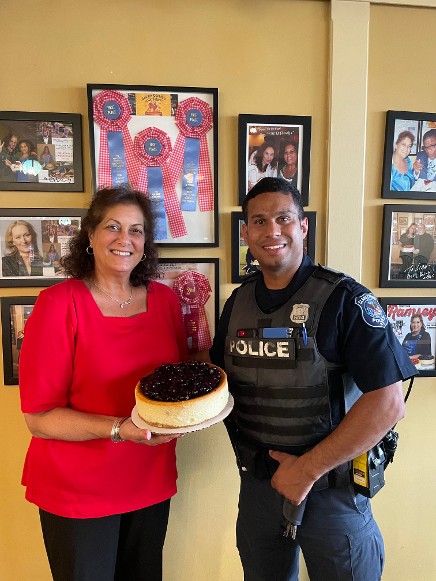 Officer Fitgerald from the Clarkstown Police Department Loves Cheesecake! Congratulations on the birth of your son Avery 4/10/21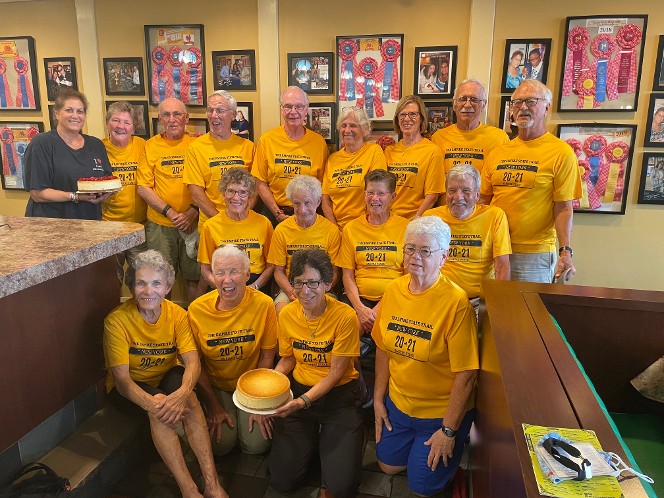 Bicyclists from all over the country for The Empire State Trail Ride. They will total 1,400 miles of biking throughout New York.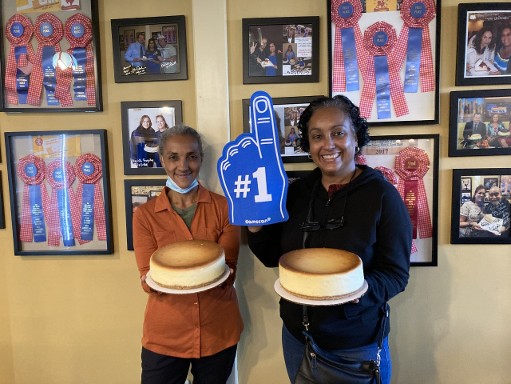 Yolanda and Chris drove out from the Bronx just to get some cheesecakes!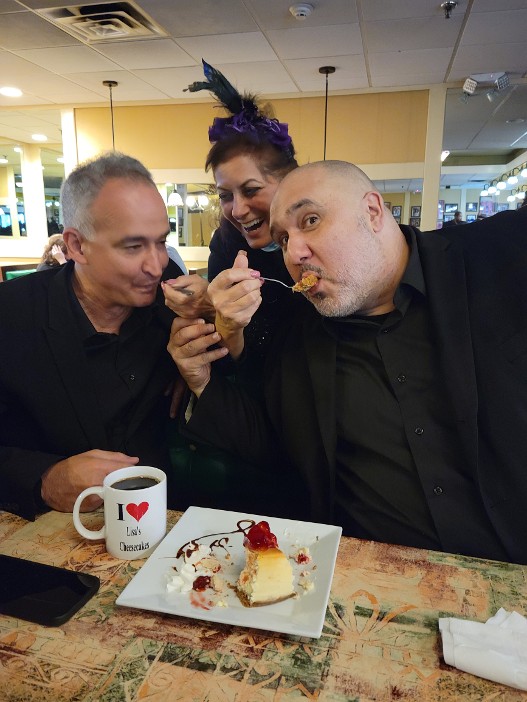 Musicians Guido Gonzalez (on left) and Anibal Martinez (on right) were thrilled to have Lisa feed them cheesecake!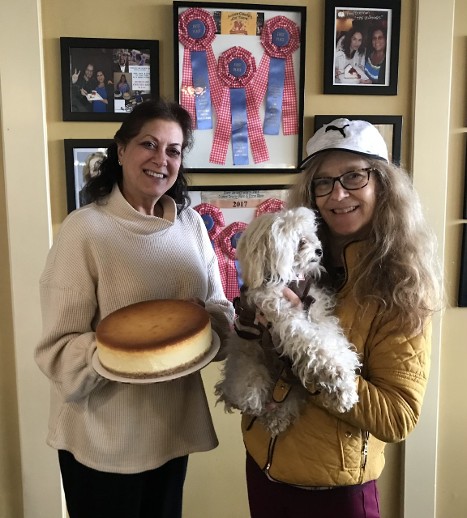 "Prince Wilbur and Jody from Wisconsin, Cheezheads say best cheesecake ever! Big Hit for the NY Party! So fun to meet Lisa"