Nestled in the West Gate Restaurant is a well known treasure. For the past thirteen years Lisa Dosch has been baking and serving her blue ribbon cheesecakes!
It began in the summer of 2012 when her sister, Donna Maccaro, was insistent that she enter her Pumpkin Cheesecake at the NJ State Fair Cheesecake Contest. "At first I was very hesitant. I had never entered any kind of a baking contest and considered myself a home baker. Far from the professional bakers you see in bakeries." That first year she entered two categories. The Plain Cheesecake with no topping and the Flavor Cheesecake category. "I was so excited but so nervous at the same time. I couldn't believe my Plain Cheesecake and Pumpkin won first place.
After winning that year Lisa was hooked and expanded to now over 50 flavors. " Some of the flavors are from customer suggestions and others are just flavors that I love. I make a Peanut Butter Cheesecake and a customer asked, How about peanut butter and jelly? I told him to come back in two days where I presented him with a cheesecake that was like eating a PB&J sandwich." Her brother in law, Michael, always requested an orange cheesecake. One day he asked her if she could do an Orange Coconut flavor. "We both shared a piece to taste it and wow, it blew my mind. The thought of it still amazes me on how delicious it is."
When Lisa is asked what makes her cheesecakes so amazing and loved by many near and far she tells how cliché it may sound, but it's so true that anything you cook or bake if there is love and passion put into it then it is guaranteed to satisfy everyone. You can taste and feel the passion in all the flavors, every slice, every bite. Lisa has a huge passion for cooking and especially baking from growing up in the kitchen learning from her mother and grandmother. "They taught me the joy of feeding people. Food has always brings my family together and has given us so many fond memories. Bringing people together with my cheesecakes is one of my biggest joys in life.
In 2012, 2013, 2014, 2015, 2016, 2017, 2018, 2019 (due to covid there was no competition in 2020) and again in 2021. In 2022 she had the privelege of Judging the contest. Wish her luck in August 2023 as she will re-enter again. She is often asked which is her favorite. "It's like asking which of my children do I love more. Every flavor is after flavors that I love and I love them all. If you're in a fruit mood you can choose between; Strawberry, Cherry, Blueberry, Peach, Orange, Pineapple Coconut, Key Lime, Mango, Orange Coconut. If you're in a chocolate mood you have; Chocolate Strawberry, Chocolate Cherry, Chocolate Chip, Cookies n' Crème, Chocolate Chocolate Chip or Peanut Butter Cup. If you want to try something very different there is; Coconut, Espresso, Amaretto, Jack Daniel's Honey, Tequila, Coquito, Peanut Butter & Jelly, Orange Coconut just to name some. The most popular is her Plain Cheesecake. "Some people are very traditional and like the plain while others come and try a different flavor each time."
"I have a customer who takes six blueberry cheesecakes with her when she flies to Florida to give to her family and friends. I asked her how she does it by herself and she says she packs it a certain way and everyone knows her at the airport now as the lady with the cheesecakes and they take good care of her."
The wall in the restaurant displays her ribbons and just some of the famous people who have been in and had a taste. She was also showcased on Hudson Valley News 12 and Good Day New York. "That was a fun experience. I taught Greg and Roseanne how to make cheesecake but the greatest moment on the show was when Greg pointed to my pumpkin cheesecake and said it was the best thing he's ever eaten in the history of his life. I then heard the producer called down from upstairs asking for a slice of pumpkin cheesecake so I sent him the entire thing."
Every cheesecake she makes with her own hands. Her daughter, Laura is by her side baking when she's home from college. "I love having her in the kitchen with me and teaching her the joy that my mother and grandmother taught me."
Lisa loves to meet new customers and even give a sample taste of some of the flavors. Probably because she especially loves to see their expressions. You can come in for a slice or take one home with you. They are always fresh and she never freezes them. "Thanksgiving and Christmas are my biggest days for orders. The end result is I'm sharing the holidays at so many homes. It's like I'm there with them."
If you'd like to suggest a flavor she would love to hear it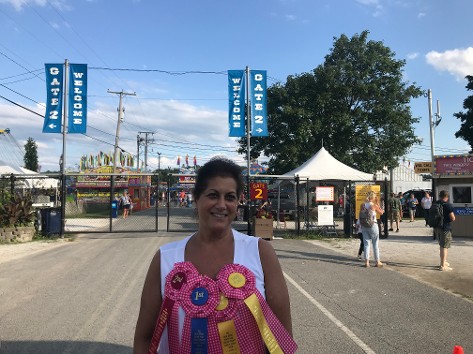 .